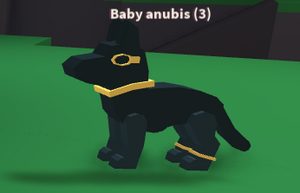 ANUBIS
Location :Desert (pyramid)
Can ONLY be found in egg form, after finishing the Anubis Quest.
The Quest is found in the Pyramid, and to be activatived, click the Anubis Structure in the middle room.
Notes:
You can use Sapphire miner blueprints to make the quest fast or have a friend help you out
Underneath the Desert Temple, you will find a obstacle course filled with sapphire veins. Riding a pet with Fly is also recommended.
Trivia:
Anubis willl obtain a Sapphire Necklace during its growth stage.
Anubis is named and referenced off of the Egyptian God, Anubis, God Of Death, or Set.